Charity tombola for Reporters without borders
from June 1st to June 29th 2021
To support its activities, Reporters without borders launches an important charity tombola. An original silver print, signed, of Marc Riboud's iconic photograph "The Young girl holding a flower", which he gave to the organization years ago, can be winned.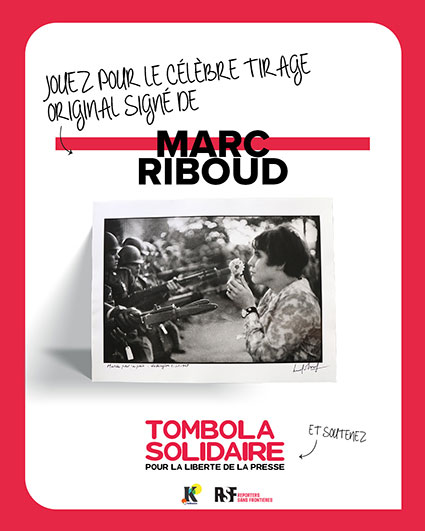 We encourage you to try your luck and to discover the other prizes on the website Karmadon: https://www.karmadon.org/tombolas
(The website is in French and the prizes will be sent to adresses in France.)
For more information about Reporters without borders: https://rsf.org/fr/tombola-solidaire-2021
Video "Guimet Underground"
Musée Guimet gives you insights on its collections! In this video (in French), you will have a glimpse of the ongoing work to protect and digitalize Marc Riboud's contact sheet. This work is accomplished with help of an intern from Ecole du Louvre.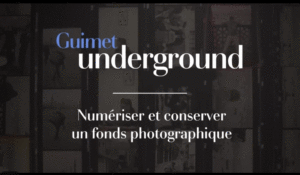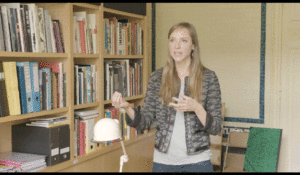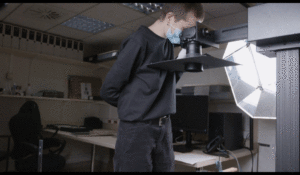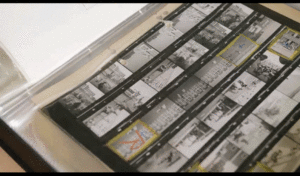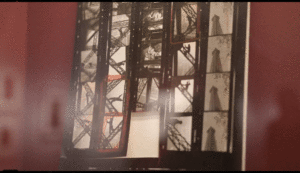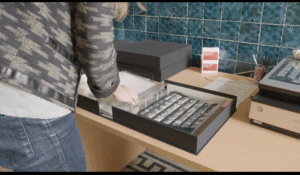 Link to watch the full video: https://www.facebook.com/museeguimet/videos/482801426303063
This video was made by Olam Productions, in cooperation with the Museum's Communication departement.
Retrospective "Marc Riboud, Histoire possibles" at the National Asian Arts Museum – Guimet
from May 19th to September 6th 2021
The exhibition dedicated to Marc Riboud celebrates the legacy of his archive to the national collections, more precisely to Guimet Museum which he loved so much.
A photographer more than a reporter, Marc Riboud left thousands of photographs (negatives, color slides, prints), many of them taken in Asia. Who, among us, cannot help but identify to this or that photograph, always familiar, and get the feeling to flip, through this album of the world, into his own family album?
From the immediate after-war to the timeless Huang Shan Chinese mountains, this exhibitions invites to a journey of more than 50 years on every continent's roads, with a favoured focus on Asia.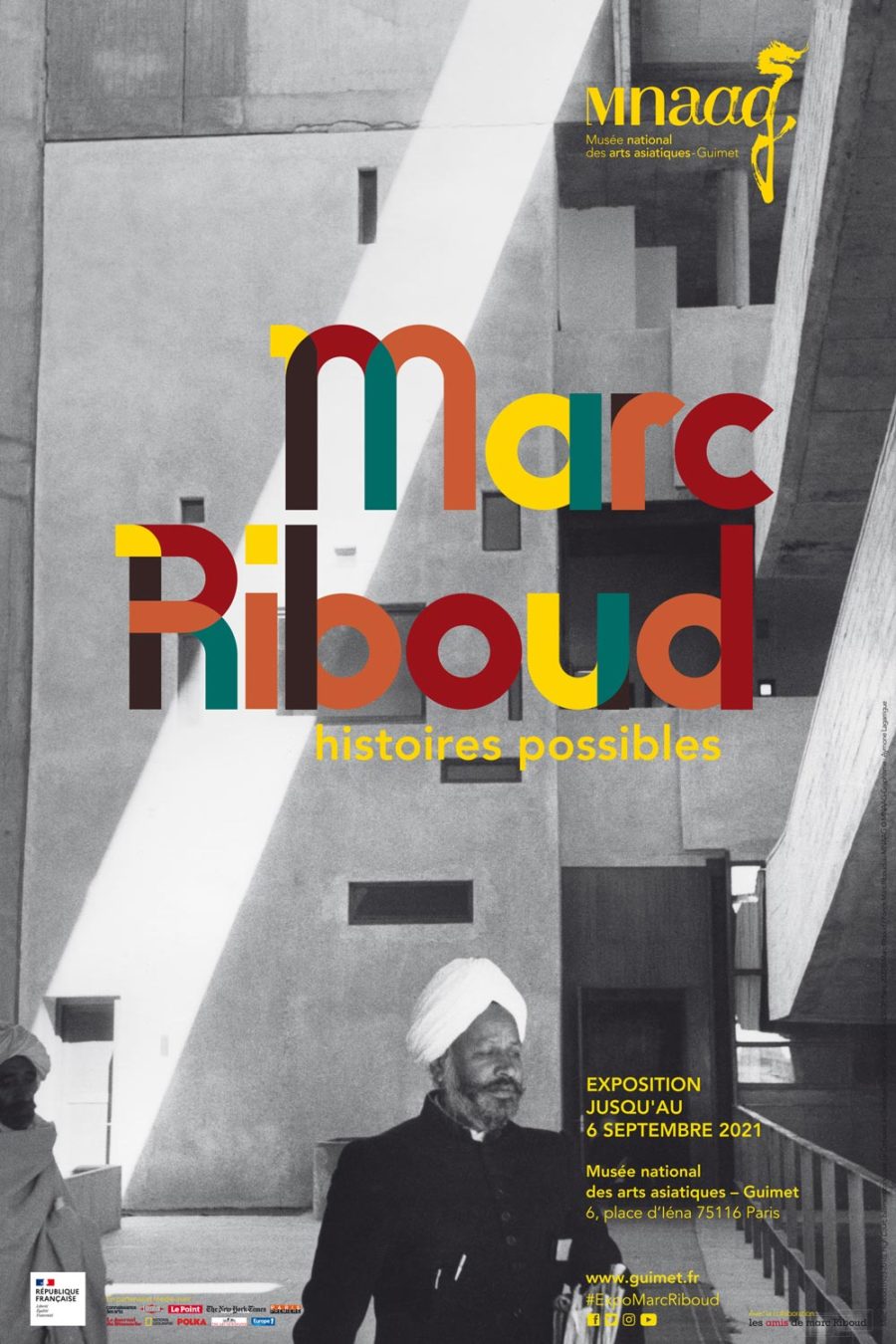 Musée national des arts asiatiques – Guimet
6 place d'Iéna, 75116 Paris
Open every day except Tuesday, from 10am to 6pm
For more information and booking (in French): Musée Guimet's website
Exhibition "Chines" at Polka Gallery, Paris
From December 1st 2020 to February 27th 2021
Polka Gallery presents "Chines", an exhibition enlighting Marc Riboud's interest and fascination for the country and its people, through a selection of arounnd 40 rare prints: large formats, vintages, and also a serie of delicate dye-transfer prints.
A journey into the Orient, from the Hundred Flowers campaign in 1957 to Hu Jintao's capitalism. "From the Great Leap Forward to the economical boom, from the egalitarian poverty to the nouveaux riches, from the Cultural Revolution to the worshiping of money, I have seen a very "Chinese" China, first enrolled by Mao, rush frenetically to the market economy.", wrote Marc Riboud.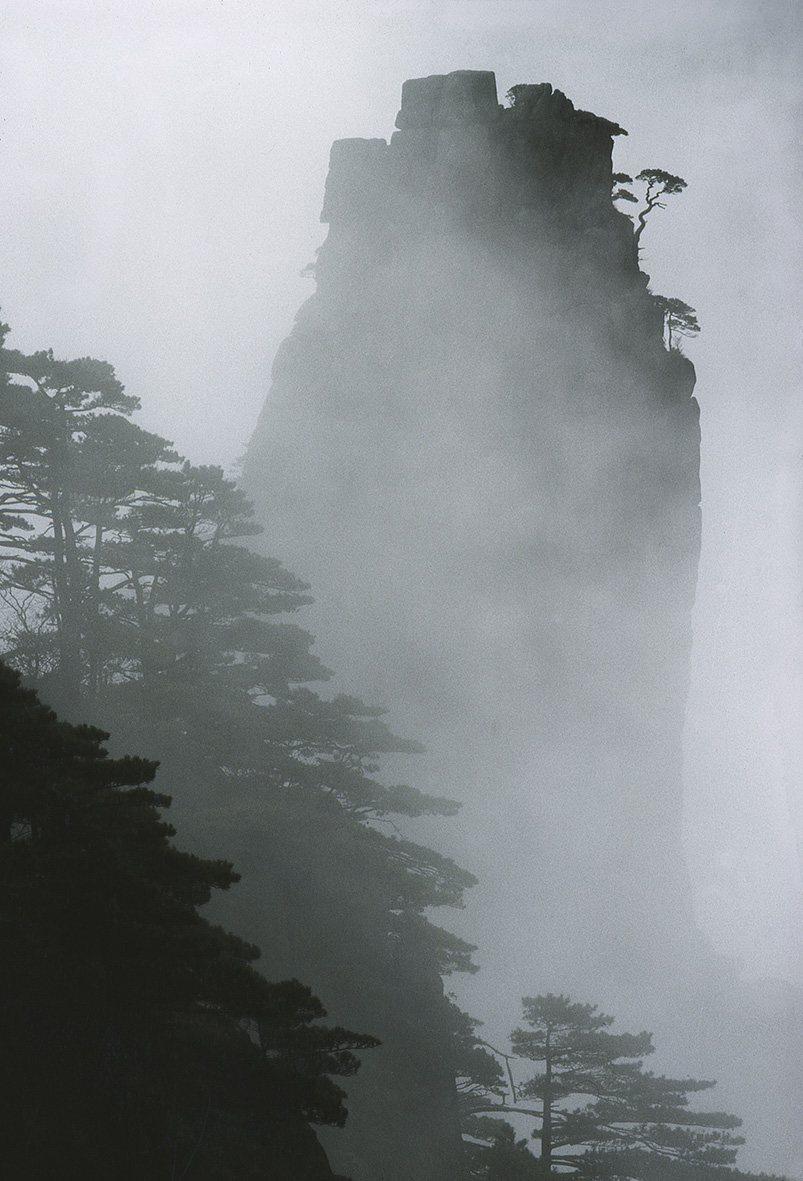 Polka Gallery, 12 rue Saint-Gilles, 75004 Paris
Open from Tuesday to Saturday, 11am to 7pm, or on appointment.
For more information: the gallery's website
Publication of the catalogue "Marc Riboud, Histoires possibles"
available in bookstores from September 23rd 2020
Published to accompany the retrospective exhibition at the National Asian Arts Museum – Guimet, this monography traces, in about two hundred photographs, Marc Riboud's work. Essays by specialists, but also more intimate texts, invite to follow the photographer along his sensible journey around the world.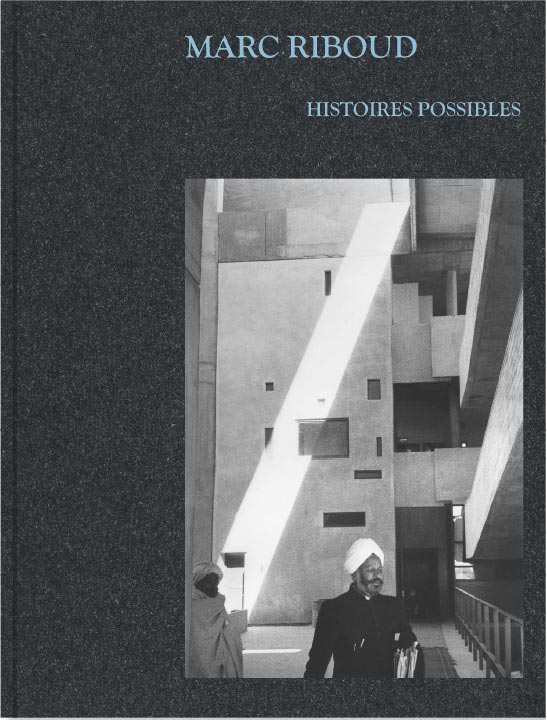 MARC RIBOUD – HISTOIRES POSSIBLES
Co-published by MNAAG and RMN-GP
Texts by Lorène Durret, Claude Estèbe, Jérôme Ghesquière, Sophie Makariou, Catherine Riboud, Olivier Rolin
272 pages, 240 illustrations
Price: 35€
Group exhibition "Pause déjeuner" at the Regional Library, Marseille
November 22nd 2019 to March 14th 2020
There are few moments so banal yet essential to all human beings than the "lunch time". For this daily ritual, with as many differences as there are times and places in the world, the greatest photographers have captured these moments, where they common or exceptional. Stars, workers, families and friends, all took pose.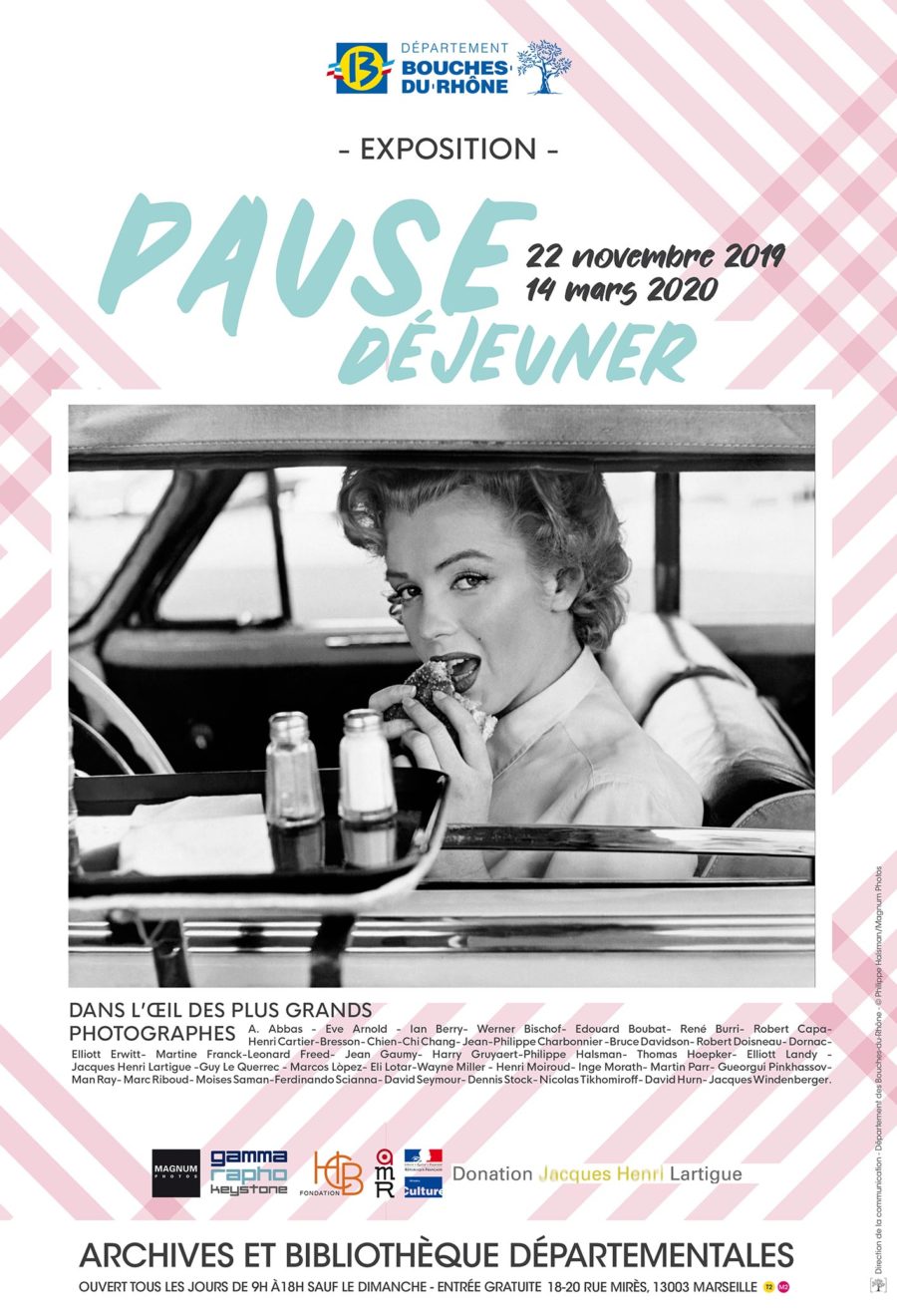 With the photographs, among others, by : Eve Arnold, Werner Bischof, Bruce Davidson, Elliott Erwitt, Martine Franck, Jean Gaumy, Philippe Halsman (poster), Jacques-Henri Lartigue, Guy Le Querrec, Marc Riboud, etc.
For more information (in French): sortiramarseille.fr
Publication of "Chines" by La Martinière
From Marc Riboud's first journey in China in 1957, warnings were countless: "You will see only what the Chinese will allow you to see (…) a scenery well prepared for you…". But Marc Riboud went against these predictions, with courteous insistence, ruse, patience, he went inside houses, schools, factories, he walked endlessly in the cities as well as in remote countrysides. He saw the early signes of the Great Leap Forward and of the Cultural Revolution, the incredible economical boom of the 80s which he photographed until the 2000s. Without forgetting the "Yellow Mountains", Huang Shan, the inspiration place of Chinese painting.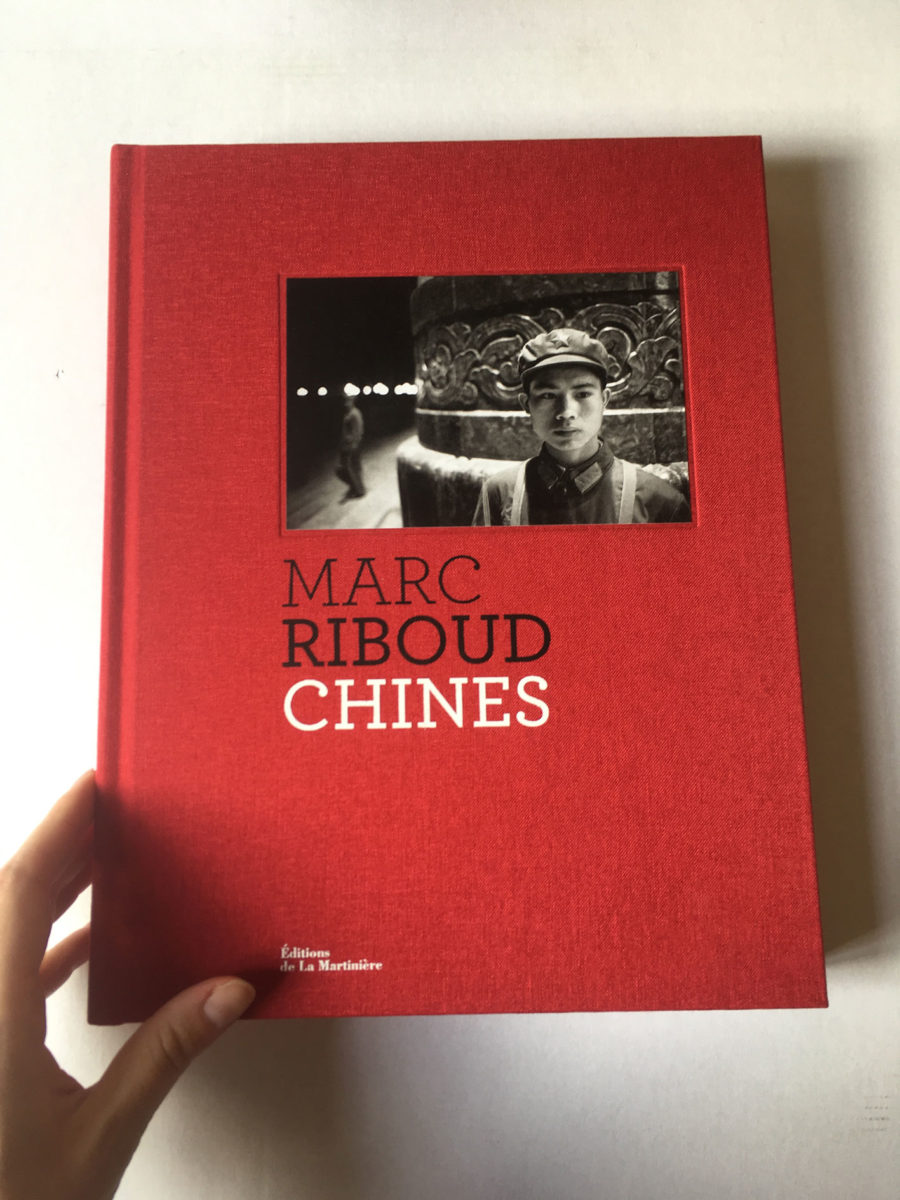 With more than 260 photographs in black & white and in color, Marc Riboud gives us a visual portrait of a multiple and complex China, a China which fascinated him by its millenary culture and the energy of its people.
A 304 pages book, at the price of 59€, in bookstores from October 24th.
Exhibition "La Chine de Marc Riboud" at Chengdu Contemporary Image Museum, China
From September 8th to November 28th 2019
After being exhibited in Kunming and Shenzhen, "La Chine de Marc Riboud" is shown in the brand new Chengdu Contemporary Image Museum, in collaboration with the French Consulate in Chengdu and the support of French Institute in China. This exhibition gathers 36 major photographs by Marc Riboud on China, from his first trips in 1957 and 1965 to his photographs of Shanghai in the 2000s.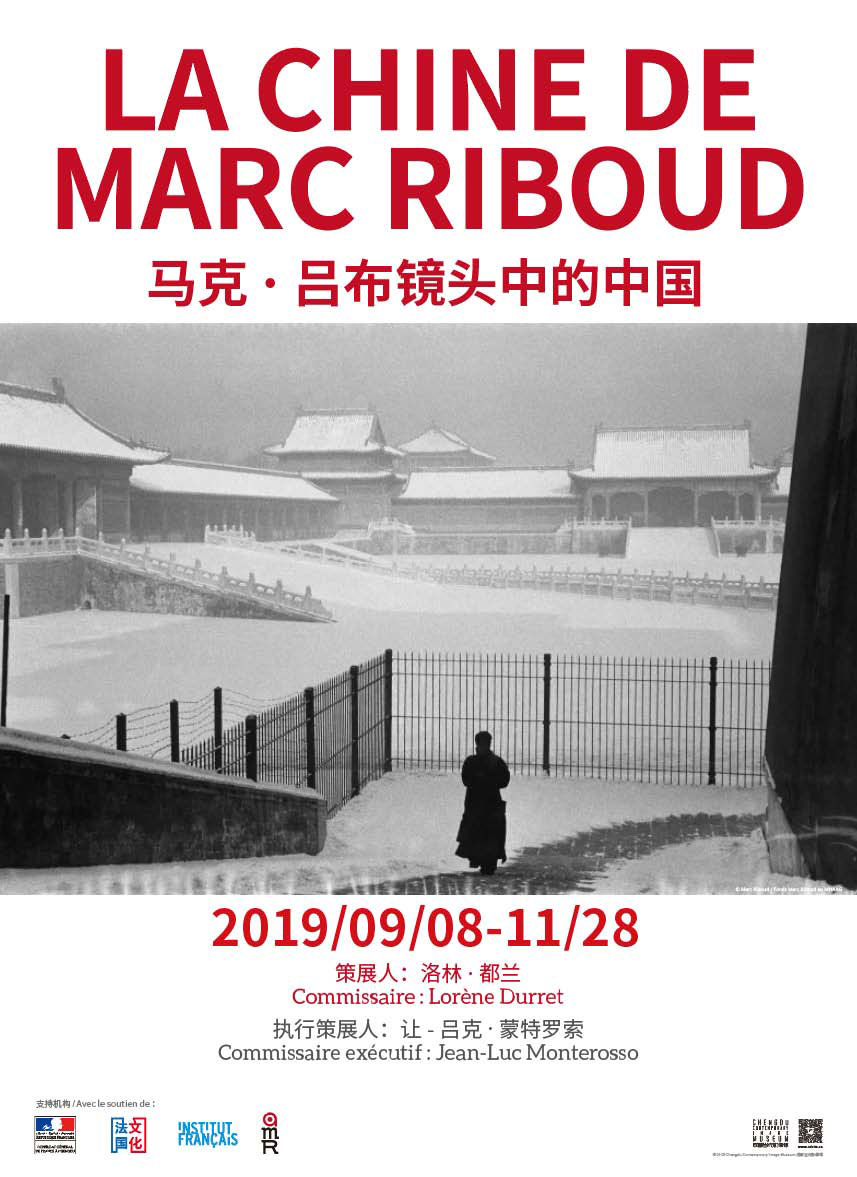 For more information: the museum's website
Adress: No 889 Jinfu Road, Jinniu District, Chengdu, China
To watch Arte's website: "Le Ghana dans l'objectif de Marc Riboud"
To replay on Arte TV's website: « Le Ghana dans l'objectif de Marc Riboud » directed by Olivier Barthélémy.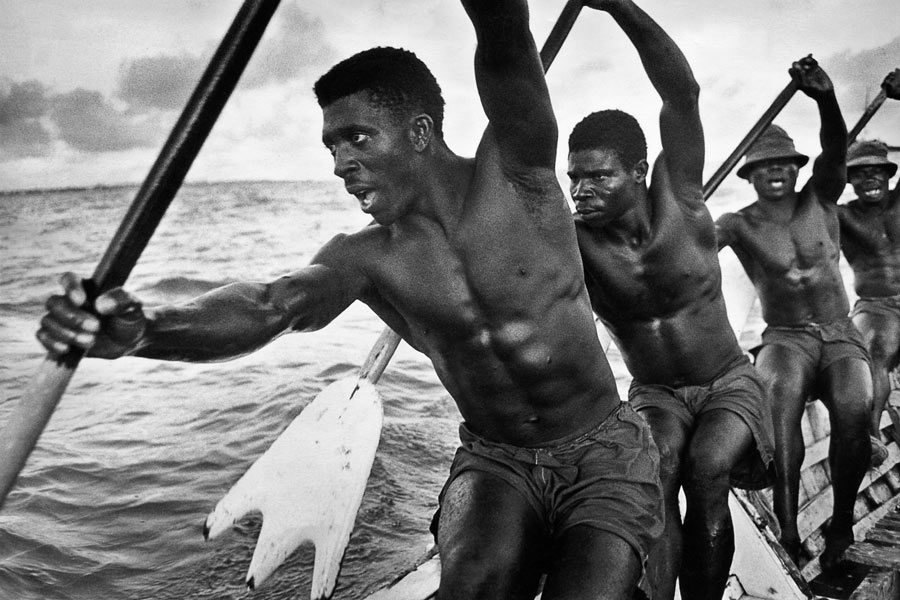 Exhibition "Marc Riboud, The Compassionate Eye" in Tbilisi, Georgia
from May 4th to 21st 2019
Kolga Tbilisi Photo festival presents, for the first time, a retrospective of Marc Riboud's works in Georgia, a country he visited in 1992.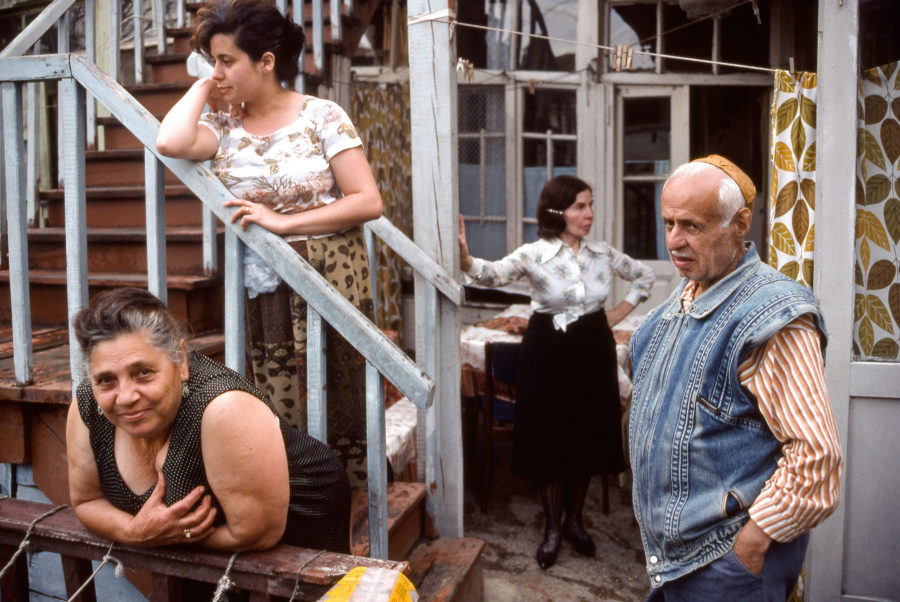 Venue : Art Palace, 6 St. Kargareteli, Tbilisi, Georgia
For more information : the festival's website